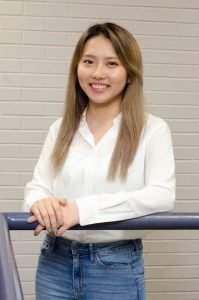 Gayoung is a certified FileMaker and web developer who takes pride in her work and is driven to provide exceptional solutions for clients. The combination of her friendly nature and willingness to go the extra mile sets her apart in her field of expertise.
Multi-lingual in English, Spanish, and Korean with a Bachelor of Arts in Computer Science and Economics from Knox College, Gayoung continues to pursue learning new things in the technology industry. She has a curious mind and is naturally drawn to broadening her knowledge base. Not only does Gayoung possess exceptional FileMaker development skills, she also has a background in graphic design and user interface.
In her free time, Gayoung enjoys a variety of reading material ranging from old detective stories to modern nonfiction books about economics and psychology. When she puts her book down, you will likely find her taking vacations, or hanging out with friends and family.