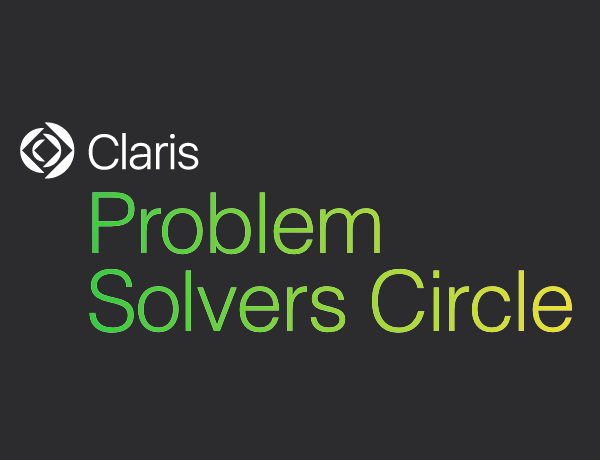 What is the Claris Problem Solvers Circle?
This brand new program from Claris is a two-year discounted licensing agreement that grants you access to every available product from Claris, including preview access to the new Claris Studio. Essentially, you will have two years to build, test, and deploy solutions that will prove Claris' value within your business. Every employee in your organization, including contractors, temps, consultants, and more will have full access to every Claris product.
Claris FileMaker- Everyone will be licensed, with access to advanced developer tools.
Claris Connect- Streamline your workflow by bringing all your apps together to work more efficiently.
Claris Studio- You'll get an exclusive developer preview of Claris' new web-based developer environment.
Streamlined licensing
This is a limited-time opportunity to build on the success your organization has had with Claris by building and testing new solutions on one, simple licensing plan. This program is limited to the first 500 customers. Contact us now if you'd like to enroll in the Problem Solvers Circle before spots run out.
What are the benefits?
This program gives you complete freedom to explore, build, prototype, test, and refine solutions over time that will continue to improve and evolve your business. Here are just a few of the benefits of the Problem Solvers Circle:
Opportunity to burn through your backlog
Streamlined licensing for all Claris products
Advanced developer access to Claris Studio
Unrestricted access for additional anonymous users
Build connections between all the apps you use for your business
Get expert advice to identify improvement opportunities
Who is eligible?
To be eligible for the Claris Problem Solvers Circle, you must be a Claris Volume License or Site License customer Customers with expiration dates beyond two years or an already expired contract are also eligible. If you're not sure if you are eligible for the Problem Solvers Circle, contact our team at DB Services and we can help you determine your eligibility.
Conclusion
We are excited to see what innovative ideas the Claris Problem Solvers Circle brings! For any other questions about Problem Solvers circle, visit their FAQ page or contact us and we'd be happy to help. If you would like to enroll in the Problem Solvers Circle, contact us now to secure your spot.