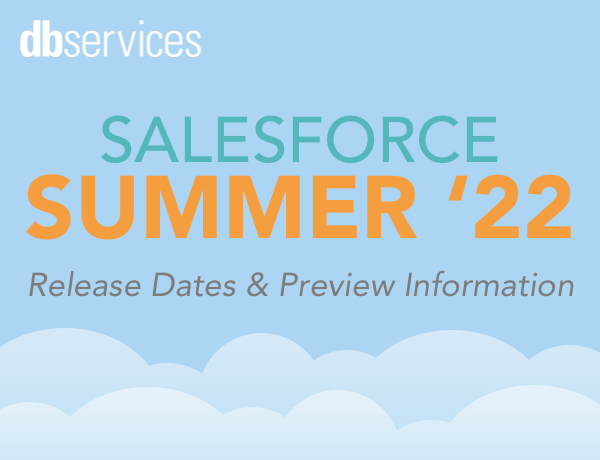 Although many of us are just starting to see the first signs of spring, the Salesforce Summer '22 release is quickly approaching. We know there are many exciting features coming our way, but for now, let's talk about the important dates and preview information you'll need to know for this release.
Get Ready for the Release!
Summer '22 Pre-Release Org
Pre-release orgs are a great way to test the new release features in a stand-alone environment before they're rolled out into your sandbox and production orgs. These became available on April 21. You can sign up HERE.
Summer '22 Release Notes
The official release notes are probably the most highly anticipated date of the each release. These offer us our first in-depth look into each new feature that will be implemented across Salesforce once the release goes live. They became available on April 27 at Salesforce Help.
Summer '22 Sandbox Preview
The Sandbox preview is a great way to test out the new features as they pertain to your unique configurations within your own Salesforce org, without affecting your live environment. Use the Salesforce Sandbox Preview Guide to determine if you want to upgrade your Sandbox or keep it on Spring '22 until Summer '22 officially arrives.
Sandbox previews begin on May 6.
Salesforce Summer '22 Release Dates
The most important thing to do is make sure you're aware of when your Salesforce instance is going to be upgraded to Summer '22. Be sure to test everything before the release goes live to ensure everything still works properly and you know how to navigate the new features and upgrades. Be sure to check out the Release Resources page to help prepare for the new updates!
The three main release weekends for Summer '22 are:
May 21, 2022
June 4, 2022
June 11, 2022
You can find your Salesforce instance by going to company information in Setup within Salesforce. To find your release date, go to Salesforce Trust, select your instance name, and click on the "Maintenance" tab. This will show you the date that your org will be upgraded to Summer '22.
If you'd like to check out our favorite new features and upgrades in Summer '22, read our Salesforce Summer '22 Release Highlights article. If you have any questions about Salesforce or want to get started on your digital transformation, contact us today!
Sources: SalesforceBen, Salesforce Admins