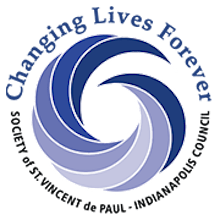 DB Services is proud to announce our Surveys for Success charity partner for Q3 of 2021, the Society of St. Vincent de Paul-Indianapolis. The Surveys for Success program is our way of saying thank you for your valuable feedback by paying it forward to those in need.
Since the 1940s, St. Vincent de Paul has been serving the most vulnerable in our communities by providing food, clothing, transportation, shelter and, ultimately, sustainable paths out of poverty. They offer an extensive list of valuable programs and resources, including two food pantries, meal delivery to homebound individuals, a distribution center for household needs like furniture and appliances, and immersive programs teaching people how to become economically self-sufficient so they can break generational cycles of poverty. As a 501(c)(3) organization, St. Vincent de Paul depends on the support of donors, volunteers, and other community partners. They also operate The Mission 27 Resale thrift shop to raise even more funds for their Changing Lives Forever program.
Each survey we receive is an additional donation towards the Society of St. Vincent de Paul-Indianapolis. Your feedback for DB Services will not only help our team, but provide St. Vincent de Paul with donations in the process! Simply fill out our surveys with your feedback, and together we can make a positive impact.