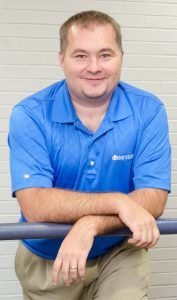 Kevin is the founder and business project manager for DB Services. He also a founding member of the FileMaker Partner Council and certified in FileMaker 18, 17, 16, 15, 14, 13, 12, 11, 10, 9, and 8. Kevin is passionate about FileMaker as an application platform and is constantly on a mission to add value to organizations through innovative custom applications.
He loves baseball, having played, coached, and volunteered at a variety of baseball levels, including work as an organizer for AAU baseball national championships. As a graduate of Indiana University's Kelley School of Business in Computer Information Systems, Business Process Management, and Operations Management, he is naturally a rabid Indiana University basketball fan.
When he's not tackling client projects, Kevin applies his business process research into growing DB Services. He recently completed the business coaching course "Building a Business that Runs Without You" by CJ McClanahan as well as Enterprise Consulting's Project Management course by Steve Burgan.
Kevin is married to his childhood neighbor, Ellen.