If you are looking for a good-looking, functional out-of-the-box solution to begin a custom database system, you have to consider starting with a FileMaker Starter Solution. FileMaker 12, the latest version of the venerable database program, includes sixteen FileMaker Starter Solutions ("Templates") for you to quickly manage your data. All of the Starter Solutions include layouts (or "screens") for the Desktop, iPad, and iPhone. In addition, each of the Starter Solutions uses one of the brand new Themes, allowing you to give your custom FileMaker application a new look and feel as Themes are new to FileMaker 12.
If one of the 16 Starter Solutions doesn't fit your needs, check out our own template, FM Quickstart. It is a free download and has been optimized to run on the latest version of FileMaker.
16 New Starter Solutions
Note: If you don't already own FileMaker 12, you can download a free FileMaker Trial to give the Starter Solutions a try.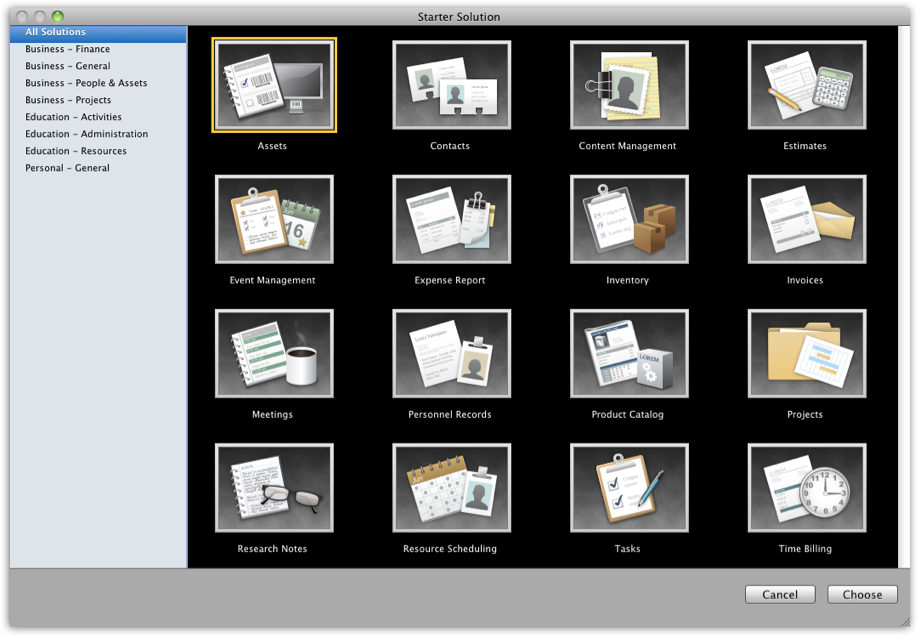 With FileMaker installed, to check out a Starter Solution, simply open FileMaker Pro 12 and the Quick Start Screen should pop up. In the lower left of the Quick Start Screen, select Use a Starter Solution. Another way to find the Starter Solutions is with FileMaker 12 already open, navigate to File > New From Starter Solution, which opens the Starter Solution window.
Choose the solution you want to begin using and you are on your way to your own custom database.
Designed for iOS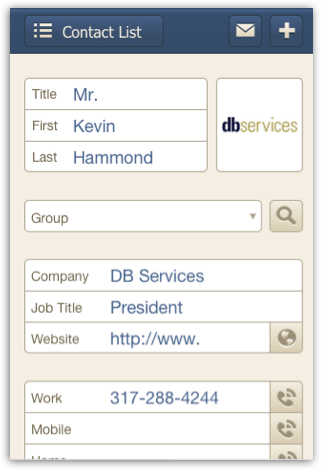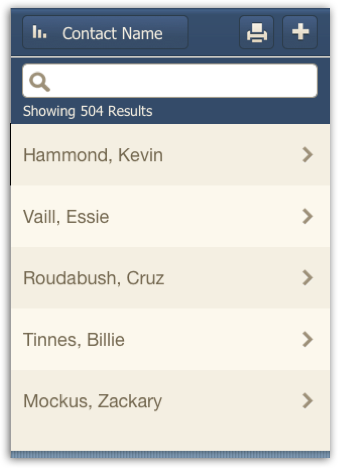 Brand new to FileMaker Starter Solutions are newly designed layouts specifically for the Desktop, iPad, and iPhone. To the right are two samples of iPhone layouts from the Contacts Starter Solution.
*Three of the Starter Solutions do not include iPhone layouts (Personal Records, Research Notes, and Time Billing).
16 Starter Solutions Reviewed
Before we dive in to the reviews, it's important to understand that the Starter Solutions ("templates") are designed to give you a running start, but you aren't locked in to the specific features of the template. All of the templates provided in FileMaker Pro 12 or FileMaker Pro Advanced 12 are free and unlocked, meaning the templates are editable, allowing you to customize the Starter Solutions specifically for your industry and domain. So, if something is missing from the application, you can add it. If something is not needed, then you can remove it from the Starter Solution. Editing the templates gives you the liberty to build the database solution of your dreams.
Contacts
This is one of our favorite Starter Solutions. Some of the out-of-the-box features include the ability to email a contact, launch a contact's website, view work and home addresses on Google Maps, import contacts, export contacts, and print labels. The Contacts Starter Solution also includes screens optimized to work with the iPhone and iPad. In FileMaker Go, you can add a picture directly from your iPhone. The Contacts Starter Solution also uses a great looking Theme, the River Theme, that has quickly become one of the most popular Themes for FileMaker 12.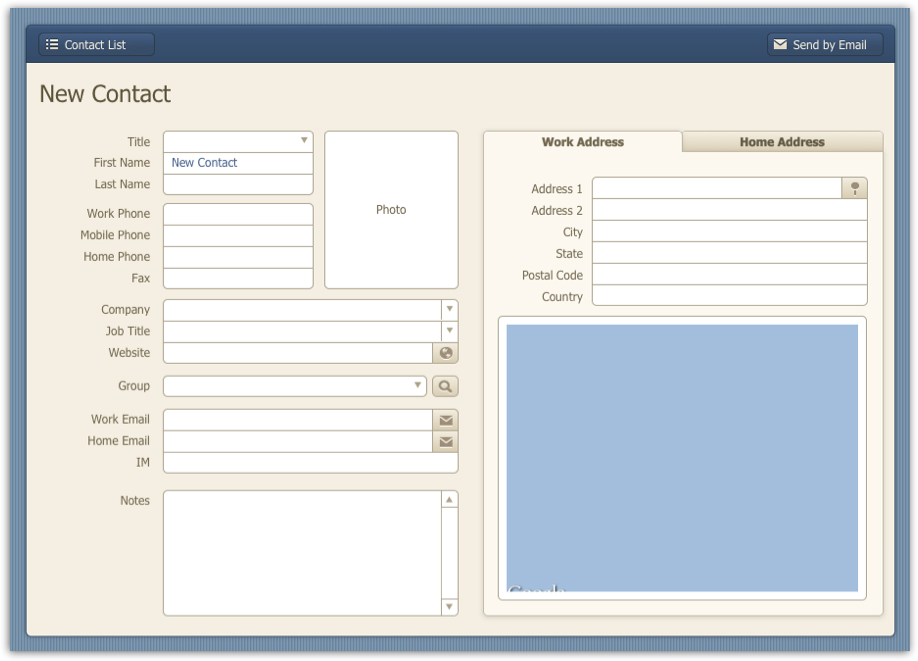 Invoices
Another popular Starter Solution is the Invoice Starter Solution. (Prior to the Contacts Starter Solution, this our favorite Starter Solution in FileMaker 11.) FileMaker 12 debuts a new Invoice Starter Solution that has three modules: Customers, Products, and Invoices. Invoices lets you manage your customers, create & email invoices, create, import, and export products. This is quite a bit for a free out-of-the-box template. With all these features, you can get running with just a few modifications like adding your company logo and billing address to customize invoice printouts.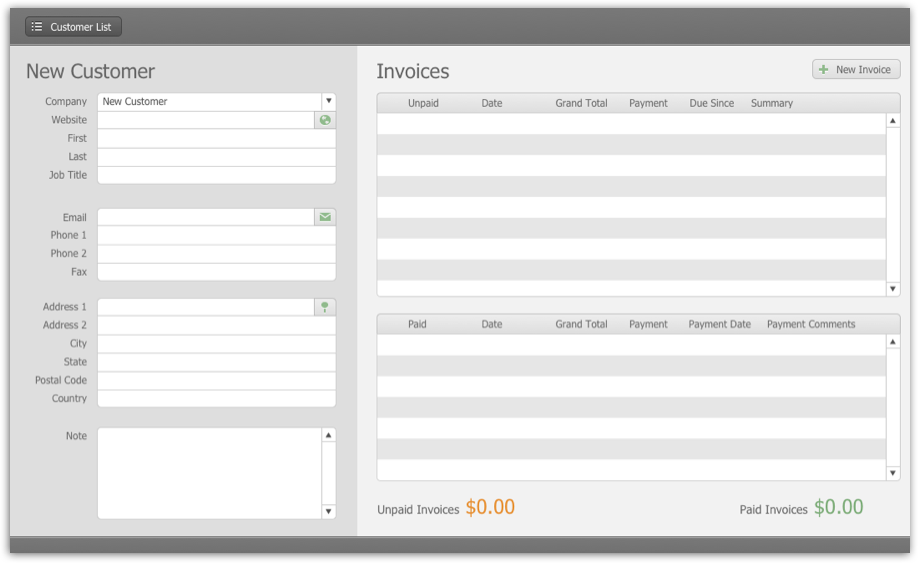 Event Management
Another feature-rich Starter Solution is the Event Management template. This comes with the ability to track much about an Event such as Tasks, Guests, Agenda, and Contributors. You can print guest badges, print task lists, print guest lists, print agendas, print contributor lists, and email agendas to guests. Also included is an Event Report that you can email, print, or send as a PDF. Last, but not least, there is a Contacts screen where you can track information about your contacts and see what events the person has been a contributor to. Overall, the Event Management is a very nice Starter Solution for those managing events.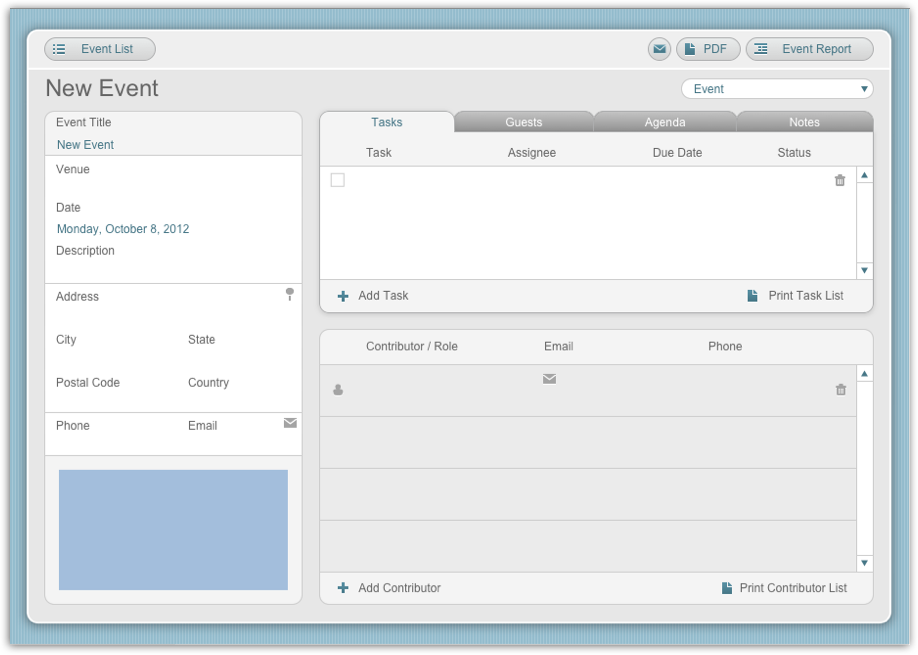 Assets
This is designed to track office assets and the depreciation value of the assets. Features for the Assets Starter Solution include the ability to email an asset, import assets, export assets, print labels, run an Inventory report, and run an Asset Depreciation report. Includes screens optimized for the Desktop, iPad, and iPhone. In addition, you can capture a signature on an iOS device such as the iPhone or iPad and save images of your assets.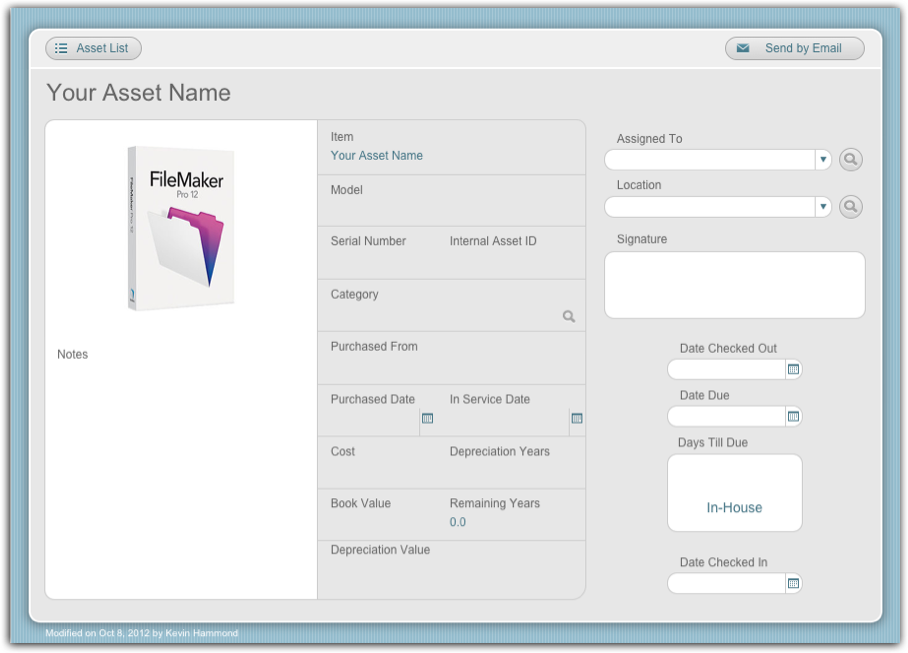 Content Management
It's ready to collect and organize documents, music, images, and any file you wish to archive. The Content Management Starter Solution includes a relational Revision history module, a Content Browser pop-up window, importing content, exporting content, and the ability to view content by a drop down list. The Content Management uses the Glass > Onyx Theme by default.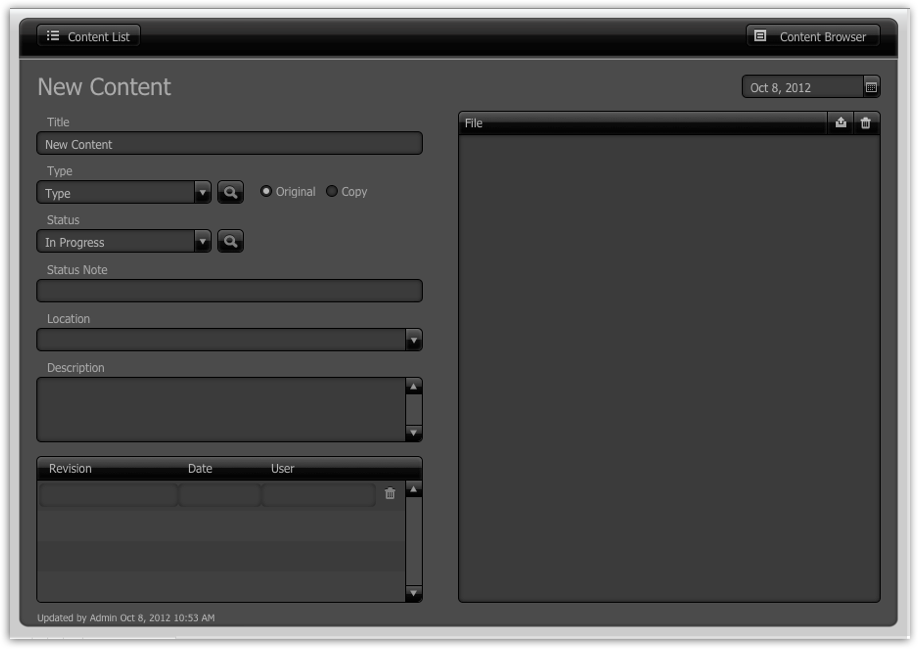 Estimates
The Estimate Starter Solution is similar to the Invoice Starter Solution. This template has three modules: Customers, Products, and Estimates. You can manage your customers, create & email estimates, and create, import, and export Products. Once again, this template offers a lot for free right out-of-the-box.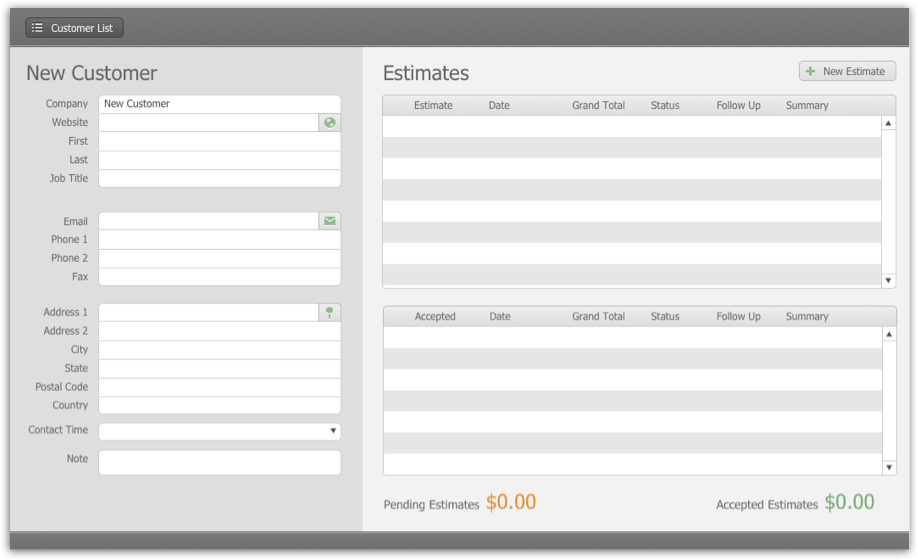 Our only wish is for the navigation to be built on the screen. Currently, you have to select the layout from the Status Toolbar to switch to other modules such as Products, Company Info, etc., which makes it a bit more difficult for new users. Overall, though, this is a very useful template.
Expense Report
In this template, you can track your expenses by line item and by mileage. Send your Expense Report by email or print it out directly and sign to turn in.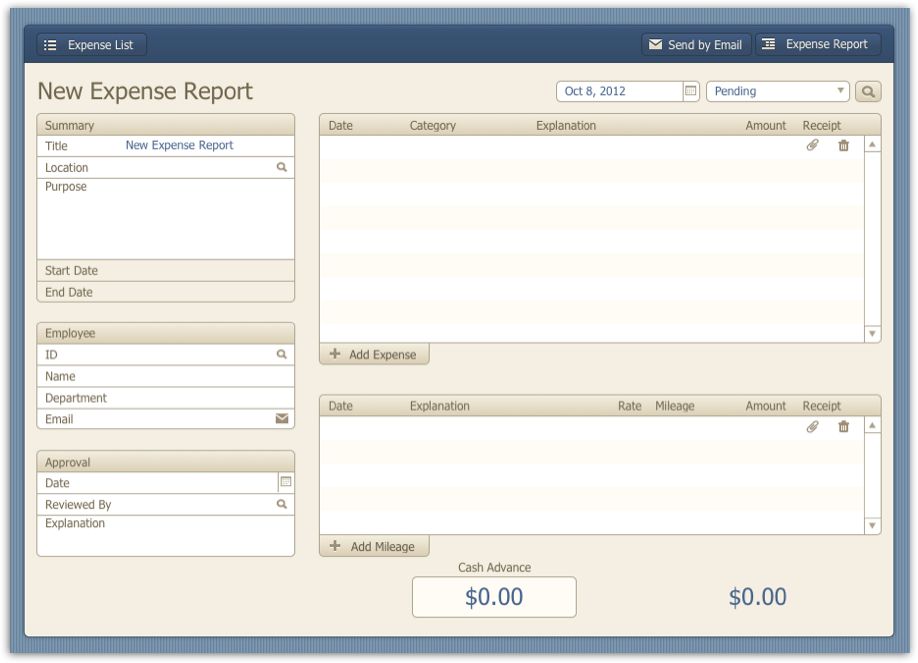 Inventory
The Inventory template stores your inventory/products in the database and records all your transactions to calculate the Units on Hand. You can also store your company information in this template for use when printing inventory reports. Easily import your existing inventory to get going quickly with this template.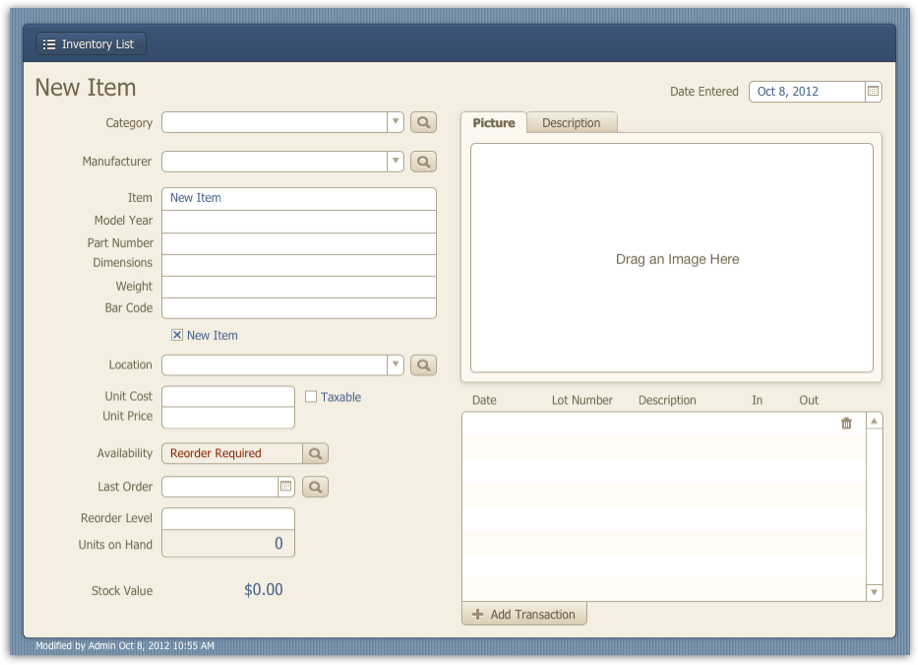 Meetings
You can save related meetings, create a new meeting by simply duplicating an existing meeting, send a meeting report via email or print the report. The screenshot here is of the River theme, which I love and use in this and other templates.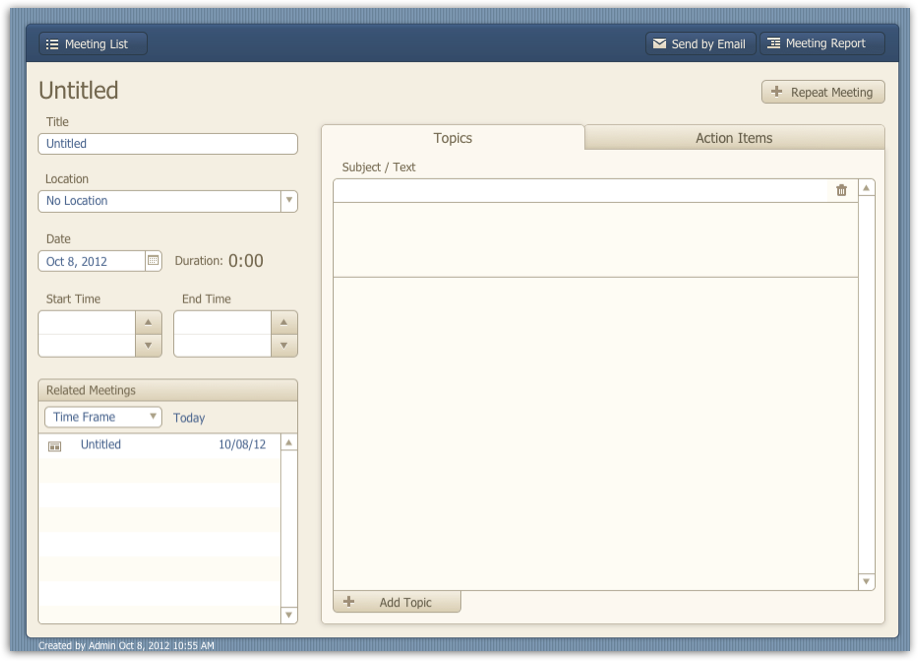 Personnel Records
Document all your staff or contractors data in a single location with the Personnel Records template. In addition, you can record their time off requested in the Time Off tab. This template includes iPad layouts, but no iPhone layouts at this time.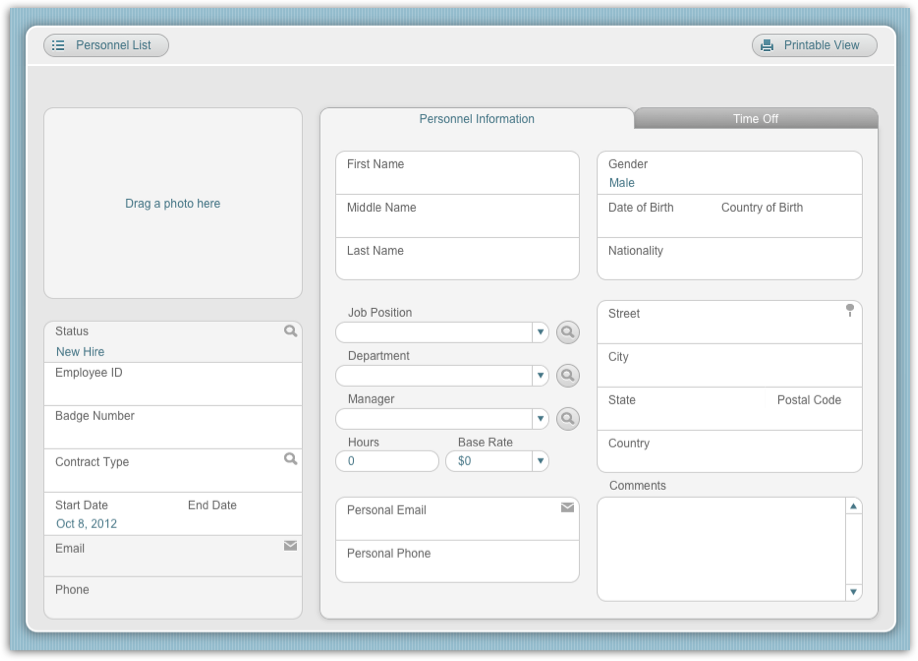 Product Catalog
Save all your products along with a picture and associated documents in the Product Catalog template. You can email a catalog or single product spec sheet to others in a click of a button. Quickly import all your products to get up and running. The Content Management template uses the Glass > Onyx Theme by default.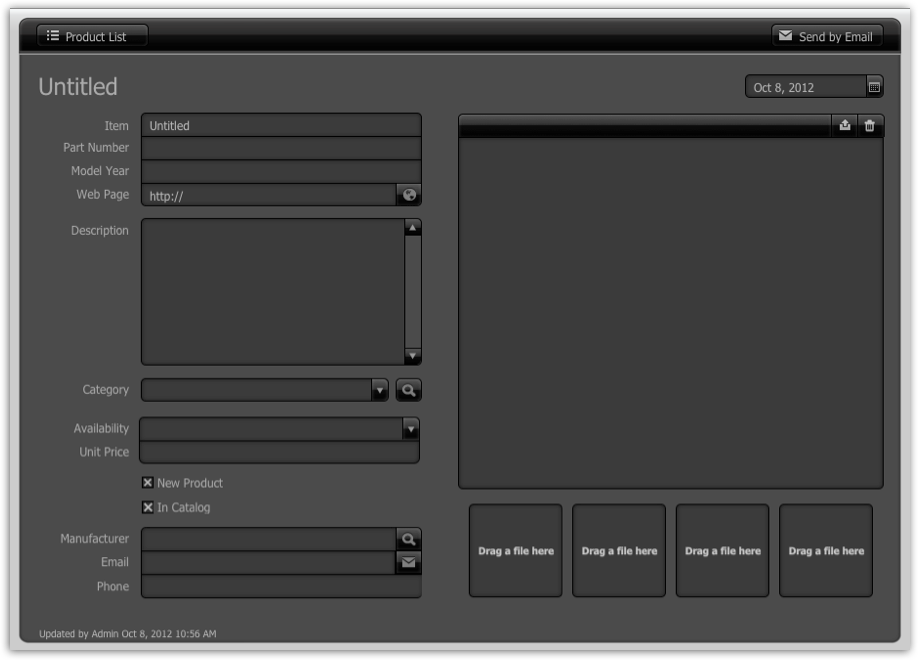 Projects
Organize your Projects in detail, including the tasks and timelines. Projects allows you to view the completion percentage of a project based on the tasks and assign tasks to multiple people. The Project and the Task modules have their own data entry screens. In addition, you can filter projects and tasks individually as well as viewing all of them in the Project List screen. You can begin managing your projects and tasks with the Project Starter Solution.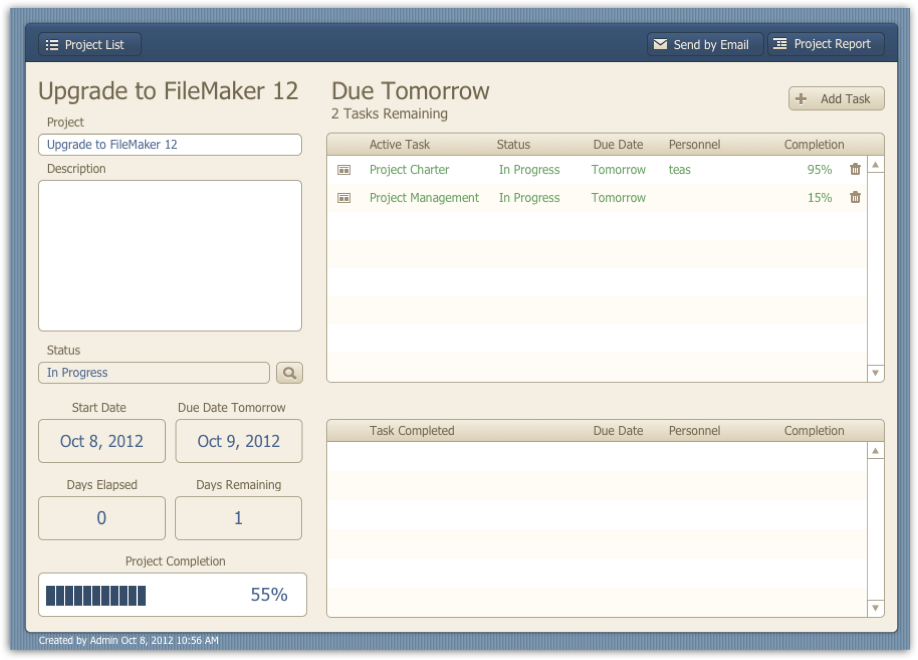 Research Notes
This template allows you to store notes and documents related to your research. It includes the ability to open a window that allows you to search through different search engines as well. You can easily change the theme as well to a different color style. One downside we find surprising is this template doesn't include iPhone layouts, but does include iPad layouts.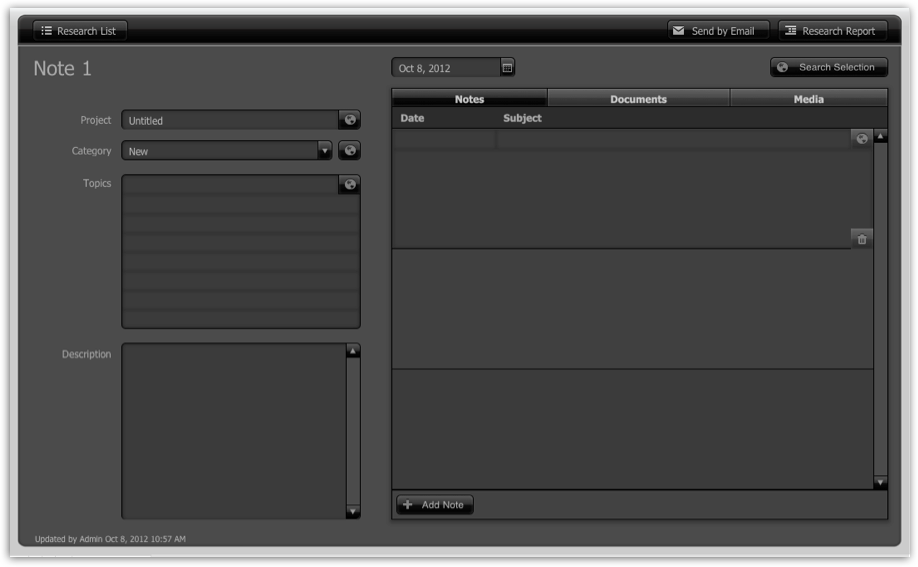 Resource Scheduling
This solution is designed to manage resources for projects. In addition, you can create a schedule for people, equipment, materials, locations, and other items. This template also includes a Schedule Report that can be printed, emailed, or sent as a PDF. The Resource Scheduling template uses by default another popular theme in the Starter Solutions: Ocean.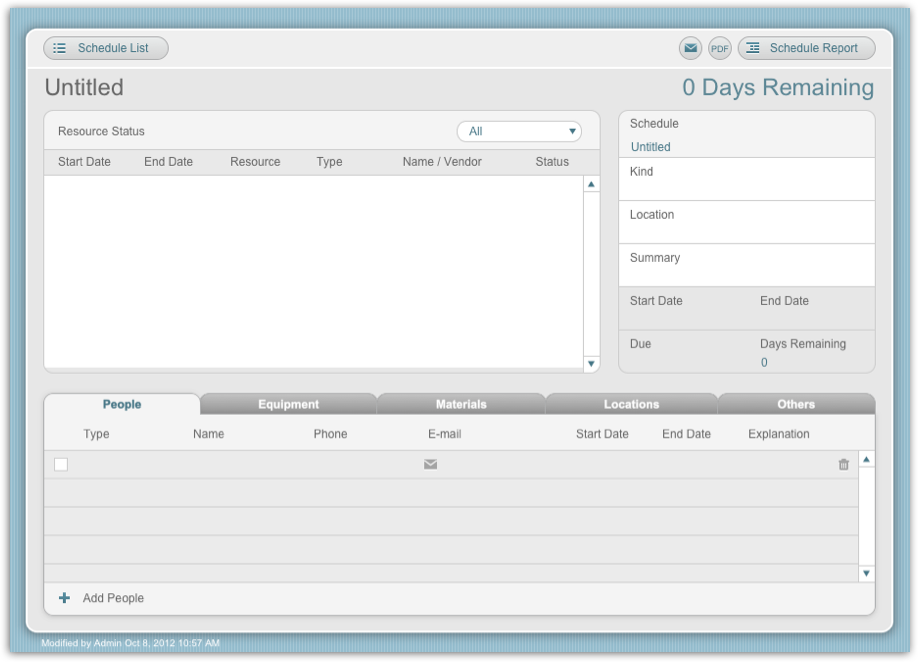 Tasks
This is a pared-back version of the Projects Starter Solution, allowing you to create a task and assign multiple assignees. In addition, you can add an unlimited number of attachments to a task for reference—a feature not in the Project Starter Solution by default, but that can be added, of course.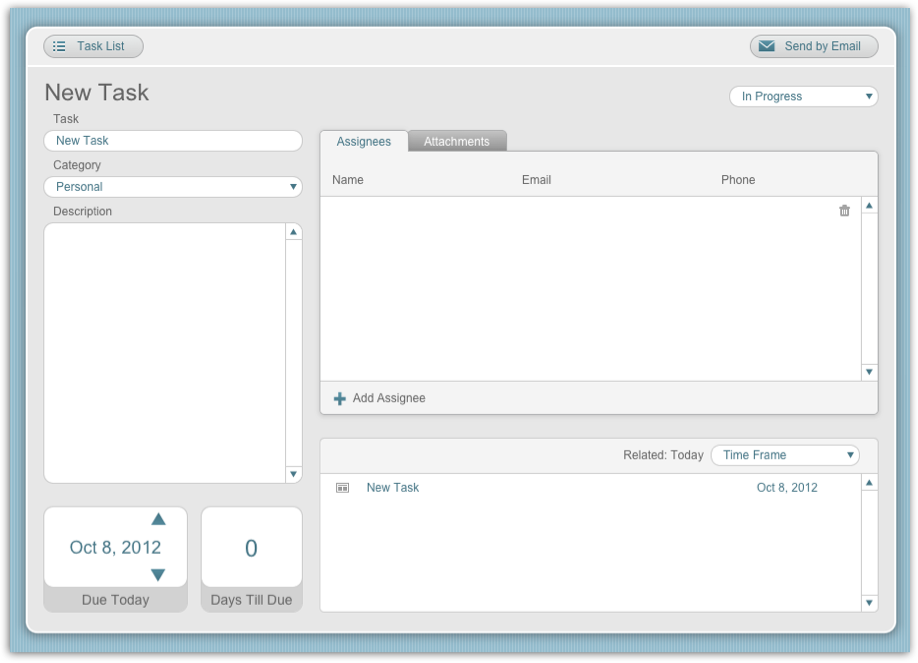 Time Billing
Time Billing includes Customers, Time Billings (like Invoices), and Time Details modules. You can email a PDF, print out your time billings, and view all completed and pending billings for your customers in the system. Currently, Time Billing does not include iPhone layouts, but does include iPad layouts.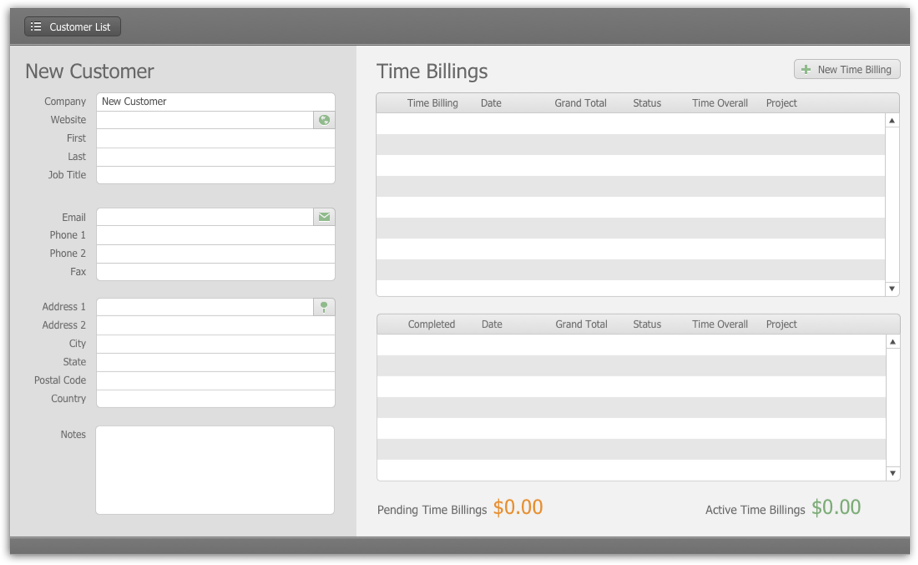 You can easily create iPhone layouts if you plan to use FileMaker Go to enter your time on your iPhone. Whether you track your time as a sole proprietor or as an organization, this is a great template for you.
Conclusion
It's great to see the revamp of the entire Starter Solution template set in FileMaker 12. Prior to the revamp, the Starter Solutions looked dated and that's (thankfully) no longer the case. With these templates, the average person, with the help of the new Themes, can create a pretty good-looking, usable interface and database solution.
Further, all the Starter Solutions are now tailored to work great on iOS devices such as the iPad and iPhone using the now free FileMaker Go 12. The sixteen redesigned Starter Solutions continue to show that FileMaker's investment to stay on top as the easiest-to-use database solution on the market is paying off.